On the left hand side of this page (or at the bottom, if you're on a mobile device) you can see a number of links which set out the support for businesses and individuals, as well as more information on the Coronavirus outbreak.
Latest Updates
From 4am, 18th January
Most people travelling to England from abroad need proof of a negative coronavirus test result. You need to have taken the test in the 3 days before you travel to England.
The Prime Minister has announced a national lockdown and instructed people to stay at home to control the virus, protect the NHS and save lives.
Everyone should follow the new rules from now, and they will become law from 00.01 on Wednesday 6th January 2021.
It has been announced that both Watford and Three Rivers will be placed into Tier 4 from Sunday 20th December
Detailed guidance which comes into effect from 00.01 Sunday 20th December 2020 can be found here: 
https://www.gov.uk/government/speeches/prime-ministers-statement-on-coronavirus-covid-19-19-december-2020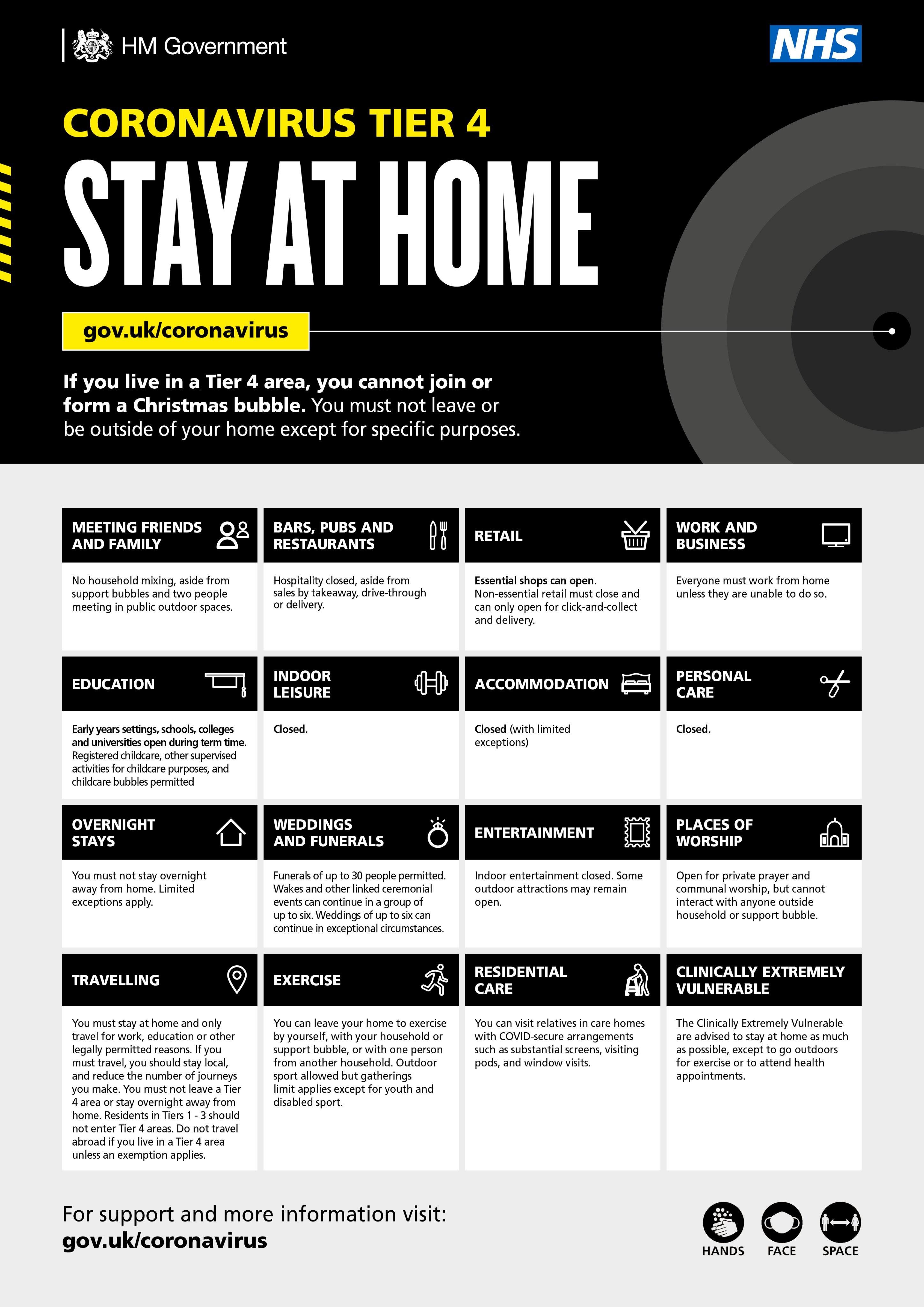 Prime Minister announces Covid-19 Winter Plan for England
The PM has set out the Covid Winter Plan in the House of Commons to outline the restrictions that will come into force across England from the 3rd December.
New National Restrictions to come into force on Thursday 5th November for England
The PM has announced a new national lockdown for England which will come into force THIS THURSDAY until 2nd December. We had been working very hard to take the tiers system forward but powerful evidence showed the balance between protecting the NHS & elective patients without this action would be impossible whiteout broader action.
Ministers and my fellow MPs met with the Health Secretary early this evening asking for further insight as to why these new measures will need approval by Parliament this week. As the CMO summed it up. No right time to do this, anytime has it's downsides.
‼️There are some key differences to the previous national lockdown‼️
- Schools, colleges and universities will stay open
- Non-essential shops will be closed, but supermarkets will stay open
- The hospitality sector will close but moving to takeaways will be allowed to continue
- You will only be allowed to meet with 1 other person beyond your household to form a bubble
- You must stay at home except to leave your house for exercise, for medical reasons, appointments, to escape injury or harm, to shop for food and essentials and to provide care for vulnerable people
-  Workplaces should stay open where people cannot work from home – for example in the construction or manufacturing sectors. 
NOTE:
- Children will be able to move between homes if their parents are separated
- Adults living alone will still be able to form support bubbles
- If you are deemed clinically vulnerable, or if you are over 60, minimise contact with others - do not go to work if you are unable to work from home
Following the Prime Minister's announcement on further restrictions across the country, the Chancellor has decided to extended the furlough scheme for a further month covering 80% of employees' wages.
https://www.gov.uk/government/news/furlough-scheme-extended-and-further-economic-support-announced
These national restrictions will apply in England from 5 November until 2 December.
You must stay at home, with a limited set of exemptions.
After 4 weeks the Government will look to return to a local and regional approach, based on the latest data.
Get the latest help, health advice and support about coronavirus from the above too
The government today announced it will significantly increase the generosity and reach of its winter support schemes to ensure livelihoods and jobs across the UK continue to be protected in the difficult months to come, supporting jobs and helping to contain the virus.
New 'Tier' system to control local rates of coronavirus
A 'Tier' system has been announced for regions and local authority areas across the country. Areas will be placed in tiers ranged from 1 to 3 based on the severity of local infection rates and hospitalisations. 
•    Tier 1 (medium risk): The current national measures of the rule of 6 and 10pm curfew on pubs apply.
•    Tier 2 (high risk): All social mixing between households indoors is banned but mixing outdoors (including private gardens) will be allowed with the rule of 6 and maintaining social distancing.
•    Tier 3 (very high risk): Social mixing is prohibited in all settings, along with the full closure of pubs and bars. 
The whole of Watford is placed at Tier 1, which means there is no change to the restrictions that are already in place. A full explanation of the Medium tier can be found here.
Please remember to only get tested if you have symptoms, but if you have a new, continuous cough, a temperature, a loss or change of taste or smell, you should go to www.gov.uk/get-coronavirus-test and book a test.
We should continue to remember the basics of hands, face and space.
Continue to wash your hands for at least 20 seconds, wear a face covering in enclosed spaces, and keep 2 meters apart from people you do not live with.
Meeting people safely
Support groups must be limited to a maximum of 15 people (from 24 September).
Indoor organised sport for over 18s will no longer be exempt from the rule of six. There is an exemption for indoor organised team sports for disabled people (from 24 September).
There will be a new exemption in those areas of local intervention where household mixing is not allowed to permit friends and family to provide informal childcare for children under 14 (from 24 September).
Weddings and civil partnership ceremonies and receptions will be restricted to a maximum of 15 people (down from 30). Other significant standalone life events will be subject to the 'rule of six' limits, except funerals (from 28 September).
Government has announced an initial £60 million to support additional enforcement activity by local authorities and the police, in addition to funding that has already been awarded.
The spread of the virus is also affecting our ability to reopen business conferences, exhibition halls and large sporting events, so we will not be able to do this from 1 October.
The government's expectation is the measures described above will need to remain in place until March.
These measures apply to England – but there may be different rules if you live in an area under local lockdown: and you should check local lockdown rules. If you are in Wales, Scotland or Northern Ireland, different rules may apply.
25th September
Get the NHS COVID-19 app to help protect yourself and others
Find out how the Winter Economy Plan will protect jobs and support businesses
There are new rules on face coverings, mixing with other households, and how businesses operate
New restrictions in place in England from Thursday 24th September
The Government is introducing new restrictions in England, to suppress the disease, and minimise damage to lives and livelihoods:
Office workers who can work from home should do so.
In key public services – and in all professions where homeworking is not possible, such as construction or retail – people should continue to attend their workplaces. The Government, Parliament as well as national and local government will be able to continue to take forward its business in a Covid-secure way and contribute to our national effort.
From Thursday 24th, all pubs, bars and restaurants must operate table-service only, except for take-aways and together with all hospitality venues, they must close at 10pm.
This will also apply to casinos. To help the police to enforce this rule, this means closing, not calling for last orders. The same will apply to takeaways - though deliveries can continue thereafter. We must act to stop the virus from being transmitted in bars and restaurants. It will not apply to theatres and cinemas where performances may run over the 10pm deadline.
The requirement to wear face coverings is extended.
This will include staff in retail, all users of taxis and private hire vehicles and staff and customers in indoor hospitality, except when seated at a table to eat or drink.
In retail, leisure, tourism and other sectors, our Covid-secure guidelines will become legal obligations.
Businesses will be fined and could be closed if they breach these rules.
Tightening up the rule of six.
From Monday 28th, a maximum of 15 people will be able to attend wedding ceremonies and receptions. However, up to 30 can still attend a funeral as now. We will also have to extend the rule of six to all adult indoor team sports.
The spread of the virus is now affecting our ability to reopen business conferences, exhibitions and large sporting events so we will not be able to do this from 1 October.
We recognise the implications for our sports clubs, the life and soul of our communities, and the Chancellor and Culture Secretary are working urgently on how we can support them.
Prime Minister Boris Johnson made a statement on coronavirus to the House of Commons.
Requirement for face coverings to be extended to include staff in retail, all taxi users, and staff and customers in indoor hospitality settings
Except when seated to eat or drink PM Boris Johnson announces new coronavirus measures for England.
Chief Scientific Advisor and Chief Medical Officer briefing on coronavirus (COVID-19): 21 September 2020
Sir Patrick Vallance and Professor Chris Whitty gave a data briefing on coronavirus.
New plan to help protect care homes from coronavirus over winter
A new adult social care winter plan will aim to curb the spread of coronavirus (COVID-19) infections in care settings throughout the winter months.
274 councils set to receive housing support for vulnerable people
The funding will provide interim accommodation and support as part of the government's commitment to end rough sleeping.
Portugal, Hungary, French Polynesia and Réunion to be removed from travel corridors list
People arriving in England from these destinations from 4am Saturday 12 September 2020 will need to self-isolate for 2 weeks.
Introducing the Rule of Six
Since the start of this year, our country has faced many tough challenges as we have fought the coronavirus pandemic. 
The lockdown was a very difficult time for our country, but through our great national effort, virus infections have reduced significantly from the peak, and we have been able to return to a more normal way of life as lockdown as eased. 
However, we have seen that as lockdowns have eased across Europe, case numbers have increased significantly. With cases on the rise in the UK, I wholeheartedly support the government in taking action to suppress the virus. 
We all need to remember the basics: hands, face, space, and if you have symptoms - get a test. 
You should continue to wash your hands often and for at least 20 seconds, wear a face-covering indoors, when social distancing may be difficult, and stay 2 meters apart from others, or 1 meter plus with extra precautions. 
However, with cases on the rise, new rules are required in order to keep the virus under control. 
That's why the government is introducing the Rule of 6. 
From Monday 14th September, you cannot meet with other households socially in groups of more than 6. This applies both indoors and outdoors, including in private homes and gardens. This clarifies and simplifies the rules on social gatherings to make them easier to understand, and for the police to enforce. 
There are a limited number of exemptions to this rule. COVID-Secure venues, such as places of worship, restaurants, and hospitality venues, where the total number of people inside the venue can be more than 6, but people cannot mix in individual groups of more than 6. The rules also do not apply to individual households or support bubbles of more than 6 who will still be able to gather together. Education and work settings are also unaffected, as is organised team sport, and weddings and funerals of up to 30 people. 
From September 18th, it will also become mandatory for hospitality businesses to have a system in place to collect NHS Test and Trace data, which much be kept for 21 days. 
The government is working with local authorities and police forces to respond to breaches of the COVID-19 Secure guidelines, and a register of newly qualified and recently retired Environmental Health Officers will also be established so that local councils can recruit more quickly and fill any gaps. COVID-19 Secure Marshals will also be introduced to help local authorities support social distancing in town and city centres. 
In addition, the government is also taking steps to improve border requirements. The Passenger Locator Form, which is required for traveling into the UK, will be simplified, and measures will be introduced to ensure that passengers have completed their form before departure. Border Force will also step up and target enforcement efforts at the border to ensure arrivals into the UK are complying with the rules. 
In July, the government set out plans to pilot larger audiences in venues this month. These plans will now be reviewed, and pilots will be limited to smaller, safer numbers with strict conditions to ensure social distancing. These plans will be reviewed on October 1st. 
These are difficult measures, but nothing like the national lockdown imposed earlier this year. In order to control the virus, we all need to play our part by washing our hands, covering our faces indoor spaces, and keeping two meters apart from others. We will get through this, but we all need to work together. 
People should check latest government advice before travelling
There will be no additions or removals to the travel corridors list (3 September 2020).
https://www.gov.uk/government/news/no-changes-to-travel-corridor-list
Prime Minister's statement on returning children to school
On the 24th August, Prime Minister Boris Johnson has made a direct appeal to parents to return their children to the classroom when schools reopen next week.
https://www.gov.uk/government/news/prime-ministers-statement-on-returning-children-to-school
Changes effective from Saturday 15th August 2020
Enforcements to be enhanced as Prime Minister announces further easements to allow more businesses activities and venues to open. https://www.gov.uk/government/news/prime-minister-announces-stronger-en…
Watford Outbreak Management Plan
For more information on Watford's detailed outbreak management plan from Hertfordshire County Council visit: https://www.hertfordshire.gov.uk/coronavirus-advice-in-watford
Changes to advice for the 'Shielded'
Shielding guidance for the clinically extremely vulnerable has been paused across England.
This means those who have been shielding over the course of the pandemic are no longer be advised to do so, and can begin to go back to work and school as long as the sites are COVID-secure.
People are also be able to go outside as much as they like, and visit supermarkets, pubs and shops, with social distancing guidelines still strongly advised.
The latest scientific evidence shows that the average incidence across the country remains lower now than the point when the decision was made to proceed with the pausing of shielding nationally. This has allowed for the relaxation of the guidance.
Some changes postponed for at least a fortnight
The government has announced that changes previously expected to come into force at the start of August will now be delayed for at least two weeks.
Casinos, bowling alleys, skating rinks and remaining close contact services must remain closed. Indoor performances will not resume. Pilots of larger crowds in sports venues and conference centres will not take place. Wedding receptions of up to 30 people will not be permitted, but ceremonies can continue to take place, in line with COVID-Secure guidelines.
Extension of the self-isolation period
Evidence has strengthened and showing that people with COVID-19 who are mildly ill and are recovering have a low but real possibility of infectiousness between 7 and 9 days after illness onset.
That's why those showing symptoms of coronavirus, or who have a positive test result, must now self-isolate for 10 days, rather than 7 days. 
Want to register your business for the Eat Out to Help Out Scheme?
For information on how to register your business for the Government's Eat Out to Help Out scheme, visit: 
https://www.gov.uk/guidance/register-your-establishment-for-the-eat-out-to-help-out-scheme
Or you can call HMRC if you need help on 0300 322 9429
Spain removed from travel corridors exemption list
People returning to the UK from Spain (including islands) from 25 July 2020 will need to self-isolate for two weeks. This follows a significant change in the last week in the level and pace of change in confirmed cases. 
If you are currently on holiday in Spain, you should follow the local rules and return home as normal. You can check the Foreign and Commonwealth Office's Travel Advice pages for further information. The Foreign Office is now is now advising against all but essential travel to both mainland Spain and the islands. 
Face coverings are now mandatory in shops, supermarkets, shopping centres
You now need to wear a face covering – for example, a fabric covering, scarf or bandana – that covers the nose and mouth in additional enclosed public spaces, as well as frequent hand washing and careful social distancing. This includes shops, supermarkets, shopping centres and transport hubs.
It will also be compulsory to wear a face covering when buying food and drink to take away from cafes and shops. If you are in a premises where you are able to sit down and consume food or drink that you have bought, then you can remove your face covering in order to eat and drink on-site.
The next chapter in the plan to rebuild
The Prime Minister has set out his plans for the next phase of our coronavirus recovery strategy to allow a more normal way of life to return over the coming months. 
Anybody can now use public transport, and the following changes will take place over the coming weeks: 
From 25th July:
Indoor gyms, indoor swimming pools and sports facilities can re-open. 
From August 1st: 
All close contact services can resume, most leisure and entertainment facilities (including indoor performances) can re-open, small wedding receptions will be permitted, and there will be large stadium event pilots. 
Employers will also be given more discretion to decide where employees can work safely. 
In September:
Schools and colleges will re-open to all pupils, and universities are working to re-open as fully as possible at this point.
In October:
Spectators will be permitted at sporting events, and conferences and business events can re-start. 
In November:
If the prevalence of the virus falls very significantly, the government will review the need for outstanding social distancing measures to allow a more significant return to normality. 
This timeline represents the governments' ambition to return to normality, but the handbrake is ready to be applied if required. 
Chancellor announces A Plan for Jobs
The Chancellor, Rishi Sunak has presented A Plan for Jobs to the House of Commons. Thanks, to the progress made in suppressing the virus the Government is now slowly allowing people to go back to work in accordance with COVID-secure workplace guidance. That is why it was right for the Chancellor to announce the second phase of economic interventions by the Government to help the economy deal with the negative economic impacts of the Coronavirus pandemic. The Government has already supported workers through the Coronavirus Job Retention Scheme, the self-employed with the Self - Employed Income Support Scheme and businesses with grants and loans being made available. 
The new announcements include:
Jobs Retention Bonus - Employers who bring people back from furlough and keep them on until January will receive £1,000 for each staff member. 
Kickstart Scheme - The Kickstart scheme will directly pay employers to create new jobs for any 16-24 year old at risk of long - term unemployment. The scheme will pay wages for 6 months, plus an amount to cover overheads. That means, for a 24 year-old, the grant will be around £6,500.
Traineeships - The Government will pay employers £1000 to take on trainees, which triples the number of paces. This is a proven scheme to get young people ready for the work place. Traineeships consist of work experience placements, training and work preparation for 16-24 year olds. They last from 6 weeks to 6 months depending on need and can lead to apprenticeships, further education and other employment. 
Work coaches - The Government is doubling the amount of work coaches at a cost of nearly £900 million. Work coaches are people's first point of contact for someone who loses their job. They provide invaluable personalised support to help people get back to work.  
Apprentices - For the next six months the Government will pay businesses to hire young apprentices, with payment of £2,000. A new bonus has also been announced for hiring apprentices aged 25 and over, with a payment of £1,500.
Stamp Duty - The Stamp Duty threshold will be raised to 500,000 until 31 March 2021 to take effect immediately. Before, there was no stamp duty on transactions below £125,000 or £300,000 for first-time buyers. Everyone buying a main home under £500,000 will pay no stamp duty at all which means 9/10 of main home buyers will pay no stamp duty at all. 
Green Home Grants - The Government is funding £2bn of Green Home Grants helping to unlock work for thousands of plumbers, builders and tradespeople. Homeowners will receive vouchers to pay for at least two - thirds of green improvements such as loft, wall and floor insulation. Low - income households will be eligible for up to 100% government funding up to £10,000 which could make over 650,000 homes more energy efficient. It could also save households save up to £300 a year on their bills. 
Cut in VAT for hospitality and tourism sectors - VAT will be reduced from 20% to 5% to take effect from Wednesday 15th July 2020. This is a £4bn catalyst benefitting over 150,000 businesses, and consumers everywhere - helping to protect around 2.4 million jobs.
Eat Out to Help Out - For the month of August, the Government will give a 50% reduction, up to £10 per head, on sit down meals and non alcoholic drinks Monday - Wednesday. This scheme will support around 130,000 businesses and help protect the jobs of their 1.8 million employees.
The Chancellor also announced a full Spending Review and Budget will come in the Autumn. You can read the full 'A Plan for Jobs' by clicking here. 
Enjoy Summer Safely!
More than three months ago, Britain went into lockdown. It has undoubtedly been a long and difficult three months, but people have supported these rules overwhelmingly, and we are now past the peak, reporting regularly fewer than 1,000 new cases each day. Sage also assesses that the R rate (the average number of people each infected person passes the virus onto) - remains below 1. That means the virus is decreasing every day.
Thanks to this progress, the government has been able to slowly ease the national lockdown. Since the start of June, you have been able to meet up with up to 6 others outdoors, and non-essential shops began to re-open throughout June. More businesses can now re-open. This includes: 
Hotels, and other accommodation sites - such as camp sites.
Some of the arts and cultural sector, as well as some leisure facilities and tourist attractions can also re-open, provided they can do so safely. This includes outdoor gyms, playgrounds, cinemas, museums, galleries, theme parks and arcades, as well as libraries, social clubs, places of worship and community centres.
All of these businesses will need to comply with the COVID-Secure guidelines, as set out by the government. This includes taking customer contact details, which can be passed to NHS Test and Trace in the event of an outbreak.
You can also meet up with one other household indoors, provided you maintain social distancing with those from outside your household.
This is the biggest step yet on the road to recovery from coronavirus. But it is more important than ever that we do so safely. Where possible, you should continue to remain 2 meters apart from others outside your household. However, where it is not possible to stay two meters apart, the guidance now allows people to keep 'one metre plus' distance. That means staying one metre apart, plus mitigations to reduce the risk of transmissions - such as face masks on public transport, or perspex screens in bars and restaurants. 
We also need to continue to remember the basics, such as washing your hands with soap and water more often and for at least 20 seconds, and if you have any symptoms of coronavirus (a new and continuous cough, a temperature, a loss of taste or smell), you should immediately self-isolate and get a test. You can apply for a test by clicking here. 
Whilst these relaxations will allow us to enjoy a much more normal way of life, it is vital that we all safely by following the guidelines and keeping your distance from others so we can keep the coronavirus under control.
New Guidance published for businesses who can open on 4th July
This morning a range of guidance has been published for businesses who have been given the go ahead to reopen from the 4th July. 
Further measures to be eased from 4th July
Today the Prime Minister gave a statement in the House of Commons outlining a list of restrictions due to be lifted from the 4th July, including the reducing of social distancing recommendations to 1 metre. 
From 6th July measures will change for "Shielded" persons
The lockdown has been particularly challenging for those who have been shielding, but as virus infection rates begin to fall, advisory guidance can be eased. 
From Monday 6 July, those shielding from coronavirus can gather in groups of up to 6 people outdoors and form a 'support bubble' with another household.

From Saturday 1 August, the guidance will be relaxed so clinically extremely vulnerable people will no longer be advised to shield, but support will remain available from NHS volunteers and local councils. People will retain their priority for supermarket delivery slots, and still be able to access help with shopping, medication, phone calls and transport to medical appointments.
Further measures to ease the lockdown
The government has announced further measures to lift the lockdown in England. That means from Saturday: 
Households containing one adult (including those with children under 18) can join another household to form a 'bubble' to act as if they live within the same household. This means they can spend time together inside, and do not need to stay 2m apart. These bubbles must be exclusive, meaning you cannot switch the bubble you are within, or mix with multiple households. If any member of the support bubble develops symptoms, all members of the bubble will need to follow the normal advice and self-isolate. This does not apply to those who are shielding, however, more details will be unveiled next week about the arrangements in place for those shielding beyond the end of June.
Places of worship can open for individual prayer, with social distancing in place. 
Shops & Zoos can open from Monday 15th June
From Monday 15th June, retail outlets will be allowed to open again, however they must put in place social distancing measures for the safety of both staff and customers. 
Also, thanks to constant lobbying of Defra and Ministers by Selaine and others, Zoos and Safari Parks can reopen from Monday also, as long as social distancing measures are put in place.
Stay safe from scams
There have been concerning reports of NHS contact tracing scams by those trying to take advantage of the Coronavirus pandemic.
Contract tracers will NEVER:
❌ ask you to make payment.
❌ ask any details about your bank account.
❌ ask you for any passwords or PINs.
❌ ask you to download anything.
Places of worship can open for individual prayer
From Monday 15th June, places of worship can now open for individual prayer. New guidance will be published shortly to ensure the limited re-opening can be done safely and in line with social distancing guidelines.
Face coverings to be mandatory on public transport
The government is asking transport operators in England to make the wearing of face coverings a requirement of using public transport from 15th June. 
This will coincide with the next stage of easing restrictions, and more people will be using public transport. 
Further details can be found here. 
Retail to open throughout June
Today, the Prime Minister has set out a timetable to re-open high street shops, department stores and shopping centres throughout June once they can show customers will be kept safe. 
Outdoor markets and car showrooms will be able to reopen from 1 June, as soon as they are able to meet the COVID-19 secure guidelines to protect shoppers and workers. As with garden centres, the risk of transmission of the virus is lower in these outdoor and more open spaces. Car showrooms often have significant outdoor space and it is generally easier to apply social distancing.

All other non-essential retail including shops selling clothes, shoes, toys, furniture, books, and electronics, plus tailors, auction houses, photography studios, and indoor markets, will be expected to be able to reopen from 15 June if the Government's five tests are met and they follow the COVID-19 secure guidelines, giving them three weeks to prepare.
Changes to advice for the 'shielded'
12:03, 31/05/2020
The extremely vulnerable who have been "shielding" in England can now safely go outside with members of their household while continuing to follow social distancing guidelines. Those who live alone can meet outside with one other person from another household.
This updated guidance will provide a much-needed boost to the shielded, many of whom have had no face-to-face contact since they were first advised to shield. 
Resumption of outdoor sports
22:10, 30/05/2020
The government has announced plans for the resumption of outdoor sports behind closed doors from 1st June. 
Click here for more information. 
Flexible Furloughing and extension to the Self-Employed Income Support Scheme
17:28, 29/05/2020
The Chancellor Rishi Sunak has announced to extend the Coronavirus Self-Employed Income Support Scheme, with those eligible able to claim a second and final grant capped at £6,570. 
Details on the extension to the Job Retention Scheme have also been announced, with employers able to use flexible furloughing to bring back employees part-time from July, with a new taper system meaning employers can contribute modestly to furloughed workers salaries from August.
Meeting family and friends outdoors
18:30, 28/05/2020
At today's Coronavirus Daily Press Conference, Prime Minister Boris Johnson has announced new measures so people family and friends, providing they are maintaining social distancing. 
From Monday, you can meet up to six people in a public place, or in a garden, providing you are maintaining social distancing.
The Government's roadmap to lift restrictions step-by-step
On Monday 11th May the Prime Minister gave a statement to the House about the Government's 'Road Map' to unwinding the lockdown measures. You can watch the statement here:
The Government has also published an extended document to lay out the plan in more detail, and to provide the background information on which the plan is based. If you have specific questions you can read the full guidance below.
The strategy sets out a cautious roadmap to balancing our life-saving measures with rebuilding our economy and society. It is subject to successfully controlling the virus and being able to monitor and react to its spread.
The roadmap will be kept constantly under review.